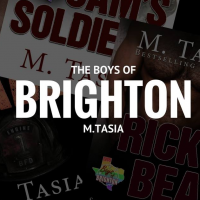 M. Tasia
Contemporary Romance
M. Tasia, is a paralegal and author who lives in Ontario, Canada. Michelle is a proud member of the Romance Writers of America and its chapters; Rainbow Romance Writers and Toronto Romance Writers. More than just an author, Michelle is a dedicated people watcher, lover of romance novels and 80's rock, who grew up with a love of reading. Michelle is a firm believer in happy endings and that love is meant to be celebrated and shared.
Recommended Featured Books
"Happiness is a choice. You can choose to be happy. There's going to be stress in life, but it's your choice whether you let it affect you or not."